Madewell
/ J.Crew
super skinny jeans
/ Konstantino
jewelry
/ Ray-Ban
ray ban
/
Belt
/
Fossil Maddox Crossbody
/
Madewell MADEWELL Silk Boyshirt In Checker
/
Sebago Plaza Sebago
Bit the bullet and ordered
this sweater jacket from Madewell
late last night, after much internal waffling but even more reminiscing. I am -- shall we say -- a tomboy of a certain age, and I actually HAD a letter jacket when I was in high school, courtesy of my hunky varsity soccer player boyfriend. (I had his silver ID bracelet too -- a treasure that will mean something only if you're my age. :-)) The jacket was enormous on me -- he was nearly a foot taller and easily 75 or 80 lbs heavier -- but hey, that was the way it was supposed to look.
Madewell Online Chat Customer Service Girl says that this sweater jacket runs slightly on the small side of TTS (although the measurements don't bear that statement out -- 38 chest for a small), and that the "look" is intended to be as it appears on their website's model: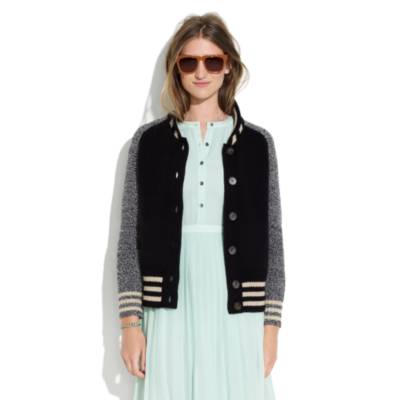 Well, to my sentimental eye the model's looks skimpy. I sized up for a nostalgic (and TRUE, if you ask me) fit.
I have a very similar shirt to what's shown here and plan to try this combo, but the sweater jacket SCREAMS for a classic white shirt.
I love, and have owned, many pairs of loafers like these. I prefer the fit and instant comfort on the Sebago Plaza (shown here), but of course there are your Bass Weejuns die-hards out there. Nothin' but love for ya, girls, it's just that Bass Weejuns hurt my feet.
And yes, I do own and use and love a men's belt almost exactly like this one!